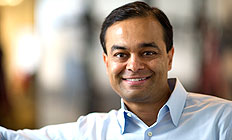 Trulia Inc. chief financial officer Sean Aggarwal sat down to explain what his company does to financial industry professionals at lunchtime today.
His glowing assessment of his company's upside at the Goldman Sachs US Emerging/SMID Cap Growth Conference focused on the real estate listing service's use of technology and evolution from the web to handheld devices.
In a conversation with Goldman equity analyst Debra Schwartz at the New York Marriot Marquis, Aggarwal first laid out the Trulia business model: 35 million consumers use it free, monthly, while agents pay about $200 a month for subscriptions.
Once consumers have indicated their preferences, the software will guide them to appropriate agents.
Aggarwal said that the site differentiates itself from other listings services because of its "rich local insights," he said, which allow consumers to take deep dives into issues that are important to them. He cited crime maps, and school and flood info, as essential Trulia features.
Schwartz noted that there are considerably less than 35 million U.S. homes sold each month, and Aggarwal provided insight into his organization's math. He said the five million homes sold nationwide each month put 10 million people opposite one another. With two on each side, the tally of buyers and purchasers can double. And about twice that amount are actively looking.

Aggarwal says the company is looking at those consumers who are "transition ready," as opposed to casual browsers.

The company's income and growth comes from the seller-subscriber listings, he explained. "The agent side is where we make our money," he said, "and it is in the very, very early days."

He said that there are one million U.S. agents, with the U.S. Bureau of Labor Statistics reporting that 600,000 people make their living full-time at the profession. "Only 35,000 today are paying Trulia subscribers," said Aggarwal, adding, "That's less than five percent of the overall [number], so it is very early days."

He emphasized that the mobile app, add-ons like the data visualizations in the form of the crime and flood maps, and long-form generated responses drive Trulia to consumers and provided results after serious home searches to the agent-subscribers.

He illustrated his point: He said a Tribeca buyer would be interested in the usual requirements like price and unit size, but also would have quality-of-life questions. For example, he said, the buyer might be concerned about a new school principal.

Each query on Trulia, he said, "has an average of four answers." The "long-form unstructured data" around the Q & As is an important part of the consumer engagement, he said.

"Trulia suggests a Netflix-type engine for buyers based on their experience and search history and others with similar history that will serve up similar Tribeca recommendations," he summarized.

Moreover, the company's data suggests that consumers who interact with the user-generated content are 60% more likely to continue the process and contact a real estate agent—"which is ultimately how we make money," said Aggarwal. "It brings them further down the purchase funnel."
He said more features like the flood zone maps will be launched, and the emphasis will be Trulia's handheld app. "Fifty percent of our our traffic is mobile," he said, "and that's what is driving this industry."
He later explained that the utility of the mobile platform—both consumers and agents most need it when they are looking at properties, or at least traveling—allows premium pricing, about 10%-20% more than a desktop subscription.
Additionally, he said that while only about 11,000 of Trulia's 35,000 subscribers are mobile, about 70% of the mobile subscribers have purchased the plan as an add-on to their desktop subscriptions.
"Mobile is just better for real estate," he said. "On weekends you are out and about. . . . If you contact an agent on the road, it is inherently a more valuable contact than off the desktop. We can price it better, the quality of the lead is better, and [brokers] are willing to pay more."
Aggarwal discussed at length the integration in Trulia of its fall acquisition of Market Leader, a real estate software program. He said the company cost Trulia about $400 million.
The software provides a variety of support services so agents can run their offices. Bringing the platform into Trulia will make the combination a one-stop shop for sale operations, he suggested.
For Trulia, he said, it will get the listing service in front of many of the more than 900,000 agents don't use it. For example, he said, Market Leader works with brokerage Keller Williams, which has 70,000 agents.
"We only closed a few weeks ago," said Aggarwal, "but [the acquisition is] definitely an additional go-to market opportunity in 2014." He also said that they company is "working hard to make sure to minimize the risk to deliver on promise of integration."
He said the company's growth is linked regionally to areas with the strongest job growth, citing Boston, Dallas, Houston, Denver and San Francisco, where, Aggarwal said, consumer traffic is growing 60%-80% annually.
Debra Schwartz closed asking about how Trulia will drive revenue growth. "Our view is it is incredibly profitable," replied Aggarwal. "Our view is that investors should have to wait for that margin payoff to come, but we intend to deliver that payoff along the way."
Noting the company's 2012 IPO, he said the "top line is roughly 220,000 agent [subscribers], each paying $450 a month, [for] $1 billion a year revenue. That is the long term, very profitable characteristics."
comments powered by

Disqus